Integrated system of management

Environment-friendly printing house
ISO Certificate since 2005
Integrated System of Management includes the whole scope of activities connected with the provision of printing services of the advertising materials, transactional printing materials for institutional customers, packagings and utility materials for non-corporate customers.
The Integrated System of Management of COMgraph Sp.z.o.o. includes:
Quality Management System
according to PN-EN ISO 9001:2015 norm
Environmental Management System
according to PN-EN ISO 14001:2015 norm
Standard for Chain of Custody system
FSC® according to FSC-STD-40-004 ver.3.0.
Quality Management System according to
ISO 15378 Good Manufacturing
Practice GMP
What is?
ISO 9001
It is an international norm defining requirements to be met by a system of quality management in an organisation. The system of quality control increases efficiency, level of customer and personnel satisfaction as well as guarantees quality at each stage of implementation. Quality management is one of the key aspects of our company's activity. We aim to ensure the highest possible quality of our products and to deliver to our customers products free from defects. Our customers may feel assured that the top quality of our services is our priority.
ISO 14001
It is a globally accepted norm defining requirements for establishing, implementing and functioning of the Environmental Management System. The basic aim of the Environmental Management System is an ongoing improvement of the environmental performance according to the defined policy, and, consequently, the main aim of the system is a continuous improvement of general effects of an environmental activity.
We aim to support environmental protection, prevent pollutions, organise and implement production in an environmentally responsible manner. COMgraph, in its activities, limits the amount of generated waste, sorts out the waste and undertakes to apply, in its manufacturing cycle, materials of insignificant potential for pollution. In our activities, we apply the preventive approach, reducing the potential for environmental hazards to occur. Entrusting us with realisation of your products, you contribute to environmental protection and simultaneously emphasise your commitment.
FSC
FSC® is a mark enjoying global trust and recognition. It helps businesses, consumers and other interested parties to identify and promote products originating from forests managed in a sustainable way. The logo sign of FSC® on an advertising product signifies that the product was manufactured on a substrate certified by FSC®. A product with FSC® certificate is a perfect foundation for building the name and image of a company. Possessing that system is our sign of support for responsible forest management and raw material used in production.
GMP
Good Manufacturing Practice (GMP) according to ISO 15378 is a set of manufacturing procedures which especially focus on the hygiene of production and prevention of manufacturing products failing to meet quality requirements. Application of requirements of PN-EN ISO 15378:2018 aims to ensure repeatability, quality and uniformity of products through strict supervision over manufacturing processes from the stage of raw-material supply, through storage thereof, production, packaging and marking, until the moment of storing and distributing finished products. Application of Good Manufacturing Practice according to ISO 15378 ensures that the materials address the needs and meet requirements of the pharmaceutical sector thanks to a higher assurance as to the quality of manufactured products. The certificate obliges us to an ongoing development and improvement of other systems of Integrated System of Management.
The compliance of those systems and their application in accordance with the binding standard requirements are confirmed by certificates issued by TUV Nord Sp. z o.o and DNV Business Assurance Poland.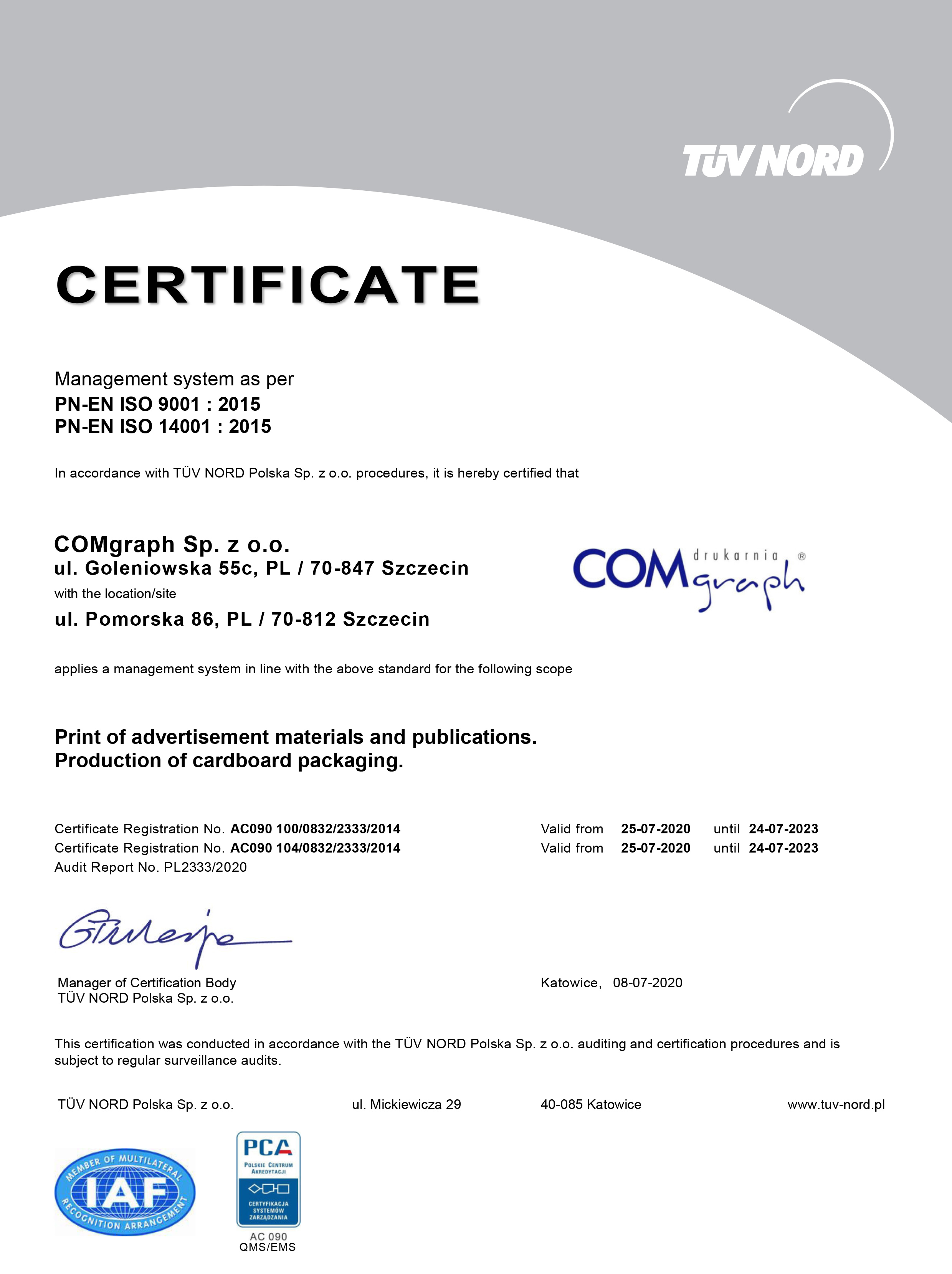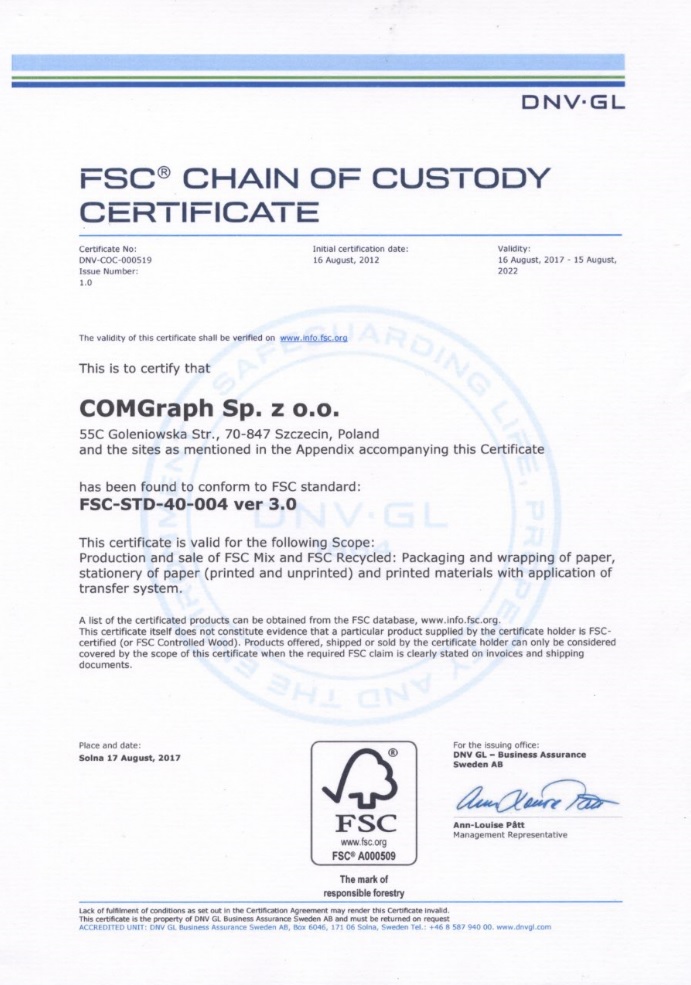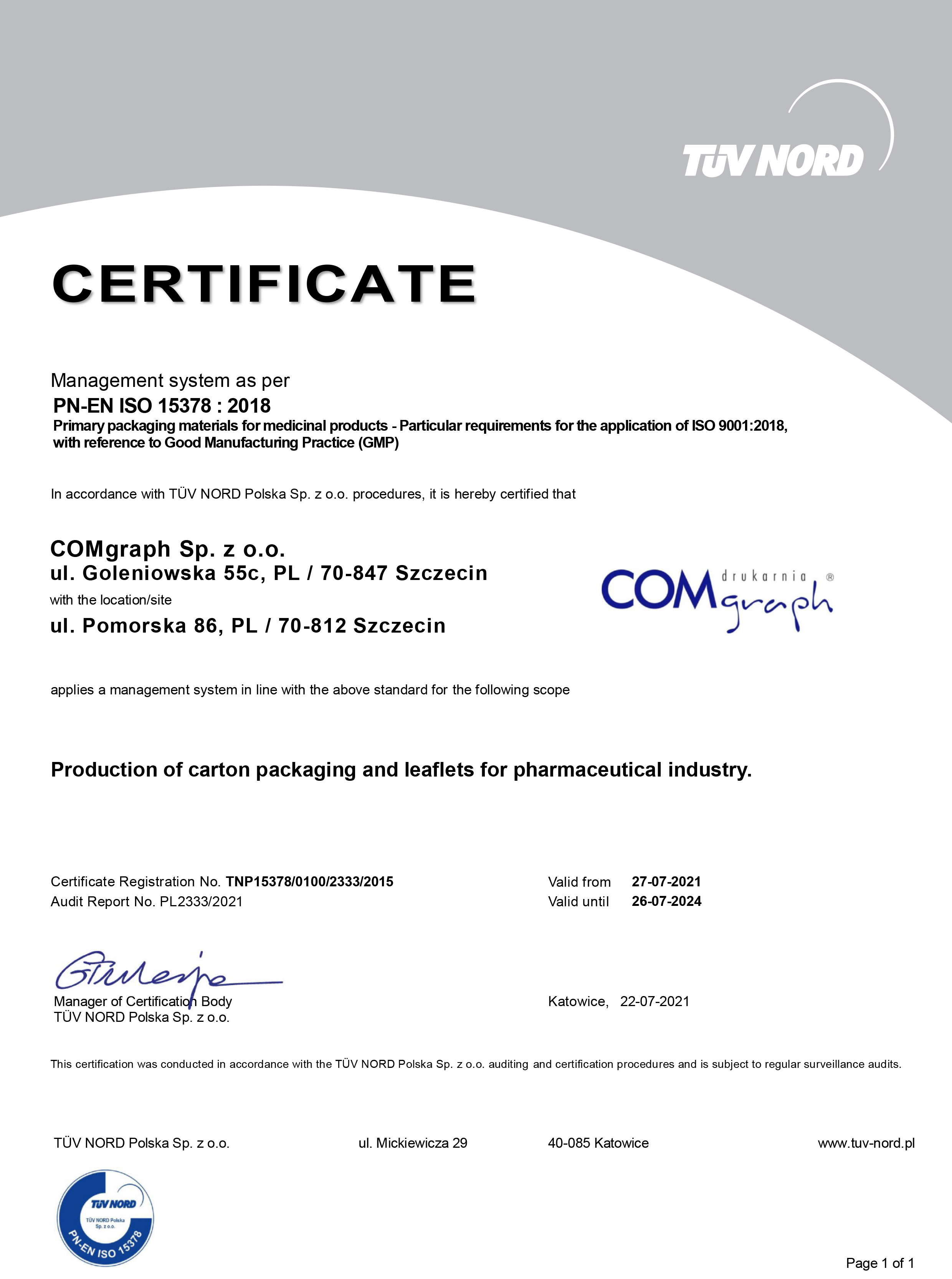 To increase effectiveness and efficiency of processes and to ensure additional benefits both for the company and the customer, the processes of continuing development are implemented by:
1. Seeking areas within the organisation where there is still something to be done instead of merely waiting for a problem to occur
2. Implementation of preventive and corrective measures to eliminate or diminish the possibility of a problem occurring in the future, and assessment of their effectiveness.
Taking into account the satisfaction of customers, employees and other interested parties, and as well meeting their ever growing requirements and expectations, the company implements quality and environmental targets, with which framework defined in the Policy of Integrated System of Management. The adopted Policy of Integrated System of Management is a proof of full commitment of top Executive Management to effective functioning of Integrated System of Management